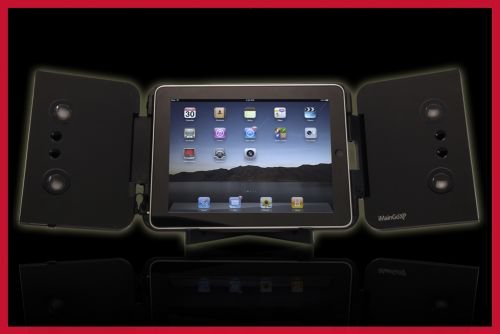 I'll admit it. I like small, portable speakers. I've been through several over the last few years, using them for listening at home or on the road for presentations or demonstrations. Some models I liked so much I purchased more than one, so I could give them away to family members. Other models I recommended to colleagues and readers of this blog. So when a marketing representative for Portable Sound Labs (PSL) offered to send me a portable speaker system that is also a protective iPad case, I did a quick check of the company website, then gratefully accepted.


The iMainGo XP is a clever combination of speaker system and case for any model of the iPad. Though originally designed for the first iPad, an adapter (snap-on plastic backing) for newer models is included. I tested the iMainGo XP with the original iPad and my iPad 2. Each one snapped securely inside the case and removal was easy. The case has a soft touch coating, not sticky but not slippery either. Inside the box you also get a folding stand and two identical, short audio plugs. You use one of these plugs to connect the iPad headphone jack to the speaker system. The other is a spare. The adjustable easel holds the unit in landscape orientation for viewing and listening. The folding speaker units are mounted on tension arms, so you can swing them to the desired position. When closed, the speakers act as a cover for the iPad screen and the entire unit forms a hard shell case for the iPad. Two slides lock the case halves together. The makers chose security over convenience in designing these locking tabs, as they were challenging to slide open. The other item included is a wall charger to power the built-in, lithium-ion battery. The rechargeable battery makes the unit portable and offers up to eight hours of playback time. A bright green LED shows you the unit is turned on.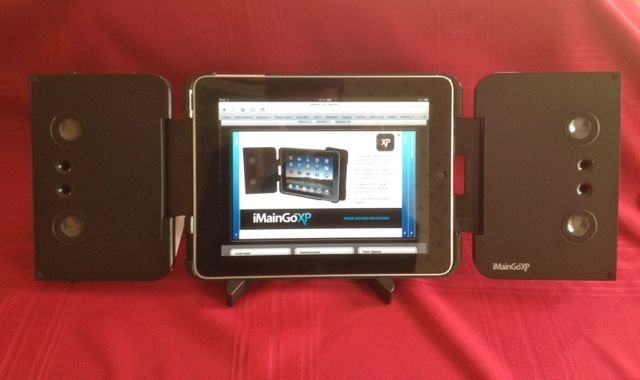 The iPad volume buttons, sleep/wake switch and dock connector are useable when the case is closed, though attaching the iPad charging cable is a tight squeeze. There is no volume control on the case. Volume adjustments are done using the iPad's volume controls. The iMainGo XP plays plenty loud. In fact, I was reluctant to push it to full volume while demonstrating it for my brother-in-law during a family gathering in Florida. (Years of racing snow mobiles and shooting big guns have taken a toll). Everyone who heard it was impressed by how loud it could play and all were satisfied with the quality of the sound. Audiophiles and those who appreciate big bass will be disappointed, but PSL has managed to get good sound from a small set of speakers and tuned ports. Two headphone jacks on the case allow two listeners to share more discreet enjoyment of audio and video content. The charging port is right next to the dual headphone jacks and looks similar, so be careful when making connections.
Naturally, the iMainGo XP adds weight and a little bulk to the iPad. According to my wife's kitchen scale, my iPad 2 alone weighs 21 ounces or about 600 grams. When outfitted with my usual protection of Apple's SmartCover and generic backside cover, the weight increases to 30 ounces or about 850 grams. The iMainGo XP weighs about 2 pounds (32 oz.) or a little less than a kilogram. So by using the iMainGo XP, I'm adding about 23 oz. or about a pound and a half to my usual setup. Common sense tells us that the components of a rechargeable speaker system will add some weight.
The iMainGo XP works best as a convenient audio system for watching videos or leading iPad-based demos for small groups. I can easily see how two children could be comfortable (and quiet) on a car trip with individual headsets, watching a movie. Traveling parents would have the added benefit of a sturdy, portable sound system for enjoying their favorite music, movie or TV show, assuming they could get the iMainGo XP away from the children.
The iMainGo XP retails for $119.95, with a street price of just under $100.00. Portable Sound Labs makes a variety of portable, protective speaker cases and special accessories for iOS (and other) devices. Leonie Darcel, Vice President at PSL, recently sent me the 2012 PSL Product Catalog. I'm already coveting a few of the new, wireless sound systems that made a splash at the recent 2012 Consumer Electronics Show (CES). You can download your own copy of the 2012 Product Catalog. Portable Sound Labs products are available at a number of online retailers and consumer electronics stores. Also check the PSL Facebook page. I understand they'll be offering a special discount if you like them.